USA Ozone Climatology
Newchurch M. J., M. A. Ayoub, S. Oltmans, B. Johnson, and F. J. Schmidlin (2003), Vertical distribution of ozone at four sites in the United States, J. Geophys. Res., 108 (D1), 4031, doi:10.1029/2002JD002059. Full Text
This publication provides an ozone climatology for the following four stations across the United States: Trinidad Head, CA, Boulder, CO, Huntsville, AL, and Wallops Island, VA. This climatology indicates evidence of stratosphere-troposphere exchange, boundary layer pollution and fluctuation, and strong seasonal variations.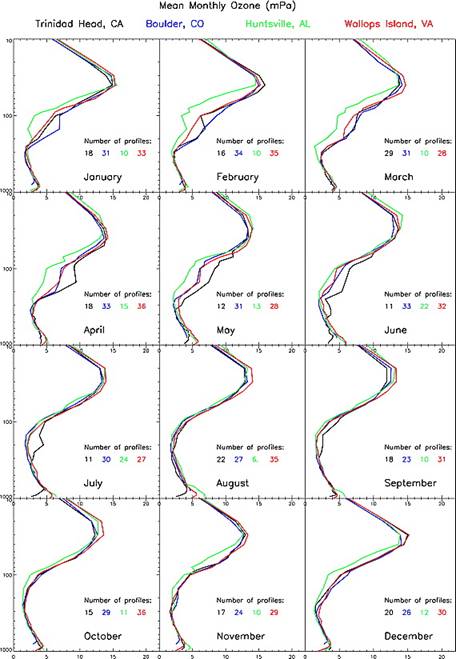 Figure 2. Monthly averaged vertical ozone profiles (partial pressure in mPa) for Trinidad Head, California (black); Boulder, Colorado (blue); Huntsville, Alabama (green); and Wallops Island, Virginia (red). The number of launches at each site for each month are indicated on the charts.
These monthly mean profiles collected for this study show the evidence of seasonally varying stratospheric ozone maxima along with a relative constancy in the profiles across the country (west coast to east coast).