PBL AEROSOL RADIOMETER OBSERVATION
ESSC scientists are measuring the downwelling thermal infrared radiation from the atmosphere, using two ventilated Kipp & Zonen CG4 pyrgeometers atop a twelve-foot tower on the NSSTC Annex rooftop. The two sensors are initially collocated to inter-calibrate their relative responsivity over a wide range of air temperatures, sky conditions, and sky temperatures. Collocation also allows the scientists to determine with a high degree of confidence that any unusual measurement features are due to changes in sky condition or sky temperature, and not due to instrument artifacts. David Bowdle, ESSC Research Scientist is the lead investigator on the pyrgeometer measurements; Danielle Nuding and Stephanie Long, ESSC Undergraduate Research Technicians, are the junior investigator and instrument technician, respectively. The prygeometer activity is part of a larger measurement/modeling project to diagnose and quantify the radiative warming due to aerosol injection, trapping, and hygroscopic growth in the nocturnal boundary layer. The next step in the nocturnal forcing project is to compare measured and modeled nocturnal sky radiation, where the model alternately includes and excludes measured aerosol profiles from the collocated MIPS ceilometer. Results from these preliminary experiments will be used to design a field project near Huntsville in late summer or early fall, when nocturnal radiative forcing from aerosols is expected to be maximized. In this field experiment, the intercalibrated radiometers can either be separated or operated as uplooking/downlooking pair to measure the net thermal radiation from the sky and the earth surface. UAH collaborators in the larger project include Richard McNider (Principal Investigator), Michael Newchurch (RAPCD), Kevin Knupp (MIPS), Sundar Christopher (satellite-based aerosol observations), Kirk Fuller (aerosol optical properties), and Udaysankar Nair (RAMS, radiative transfer modeling).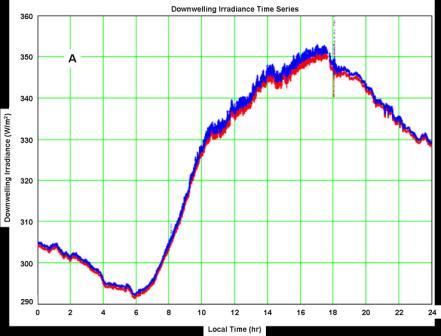 Figure A: Time series of downwelling infrared irradience for May 21, 2007. A clear sky was present from midnight-midnight local time.
Figure B: Time series difference in downwelling infrared irradience for two collocated pyrgeometers for the same conditions as in figure A.