GOME Tropospheric Ozone Algorithm
Liu X., K. Chance, C. E. Sioris, R. J. D. Spurr, T. P. Kurosu, R. V. Martin, M. J. Newchurch (2005), Ozone profile and tropospheric ozone retrievals from the Global Ozone Monitoring Experiment: Algorithm description and validation, J. Geophys. Res., 110, D20307, doi:10.1029/2005JD006240. Full Text
GOME tropospheric column ozone is compared with total column ozone from Earth-Probe TOMS, Dobson/Brewer total column ozone, and ozonesonde tropospheric column ozone at 33 WOUDC stations between the years of 1996-1999 in order to explain and validate the GOME retrieval algorithm.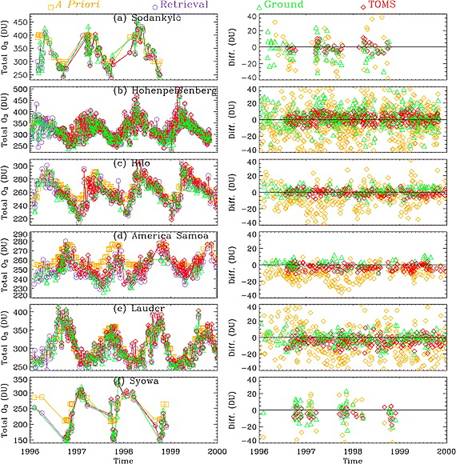 Figure 8. (left) Time series of retrieved (purple), a priori (yellow), ground-based (green), and TOMS (red) total column ozone at seven selected stations. (right) Time series of the differences of retrievals relative to a priori, ground-based, and TOMS total ozone (GOME-others).
The above image shows a GOME underestimation of total column ozone of about 10-12 DU when compared with TOMS and Dobson/Brewer measurements. This underestimation may be due to the large variation in surface albedo with changing seasons and the difficulty in discriminating between clouds and surface snow in the retrievals.