A/C Tropospheric Ozone Spectrometer
Liu, X., C. E. Sioris, K. Chance, T. P. Kurosu, M. J. Newchurch, R. V. Martin, P. I. Palmer (2005), Mapping tropospheric ozone profiles from an airborne ultraviolet–visible spectrometer, J. App. Opt., 44(16), June. Full Text
Tropospheric ozone retrieval using an airborne ultraviolet-visible spectrometer is described and illustrated. This method is described as a possible satellite validation technique as well as its application for regional air-quality studies. Regional measurements are important because the temporal resolution of satellite-based measurements (GOME) is insufficient compared to the lifetime of ozone in the troposphere below 8 km.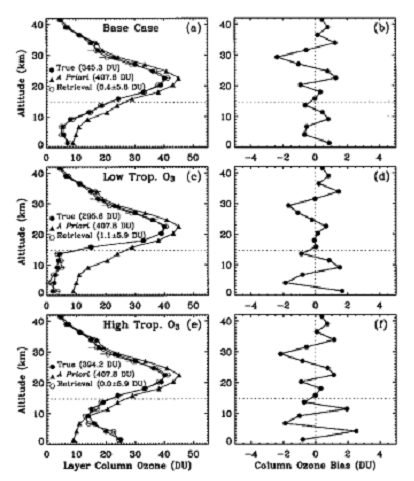 Figure 4. (a) True, a priori, and retrieved O3 profiles for the base case. (b) Column O3 bias between retrieved and true profiles in (a).(c)–(d), (e)–(f) Similar to (a)–(b) but for two modified cases with low and high tropospheric O3 conditions, respectively. The total O3 for the true and a priori O3 profiles and the total O3 bias in the retrieval are shown in parentheses. The error bars on retrievals include both random-noise errors and smoothing errors.
The above figure illustrates the validity of the proposed tropospheric ozone retrieval method. The retrieved profiles agree well with the actual profiles in all cases chosen.