Lower Stratospheric Ozone Recovery
Yang E.-S., D. M. Cunnold, R. J. Salawitch, M. P. McCormick, J. Russell III, J. M. Zawodny, S. Oltmans, M. J. Newchurch (2006), Attribution of recovery in lower-stratospheric ozone, J. Geophys. Res., 111, D17309, doi:10.1029/2005JD006371. Full Text
Since the institution of the Montreal Protocol and its amendments declining levels of chlorine and bromine have accounted for half of the ozone recovery from the tropopause to 18km in the Northern Hemisphere Mid-latitudes. Changes in transport parameters at this level should also be considered when accounting for the rebound in total column ozone that has been seen since the 9 years following the Montreal Protocol and its amendments. In order to accurately project the further effects of the Montreal Protocol a complete understanding of the changing transport parameters that have not been accounted for in previous models.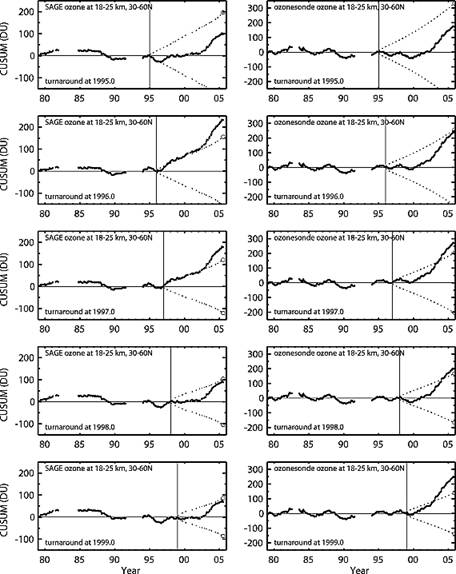 Figure 6. CUSUM calculations for the (left) SAGE and (right) ozonesonde ozone residuals between 18 and 25 km, 30–60°N. The turnaround points are selected at 1995.0, 1996.0, 1997.0, 1998.0, and 1999.0 (top to bottom, respectively).
The above figure illustrates the cumulative sum of ozone in Dobson Units using different model calculations to show how different ozone rebounds would occur based upon the turnaround year. All model calculations exceed the 95% confidence interval with the exception of 1995 as the turnaround year (Top two images).