GOME Tropospheric Ozone Comparison
Liu X., et al. (2006), First directly retrieved global distribution of tropospheric column ozone from GOME: Comparison with the GEOS-CHEM model, J. Geophys. Res., 111, D02308, doi:10.1029/2005JD006564. Full Text
Using data from the Global Ozone Monitoring Experiment (GOME) ozone profiles and tropospheric ozone retrieval algorithms were developed in order to accurately retrieve tropospheric ozone from the total column ozone retrievals from GOME [Liu et al., 2005]. This paper presents the first directly retrieved global distribution of total column ozone using the same methods described in the above reference. These retrievals are validated using the GEOS-CHEM chemical transport model.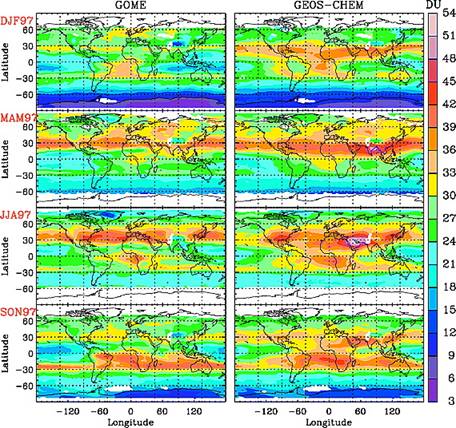 Figure 6. Comparison of seasonal average GOME and GEOS-CHEM (convolved with GOME averaging kernels) tropospheric column ozone from December 1996 to November 1997.
Overall, the global GOME tropospheric column ozone agrees well with the global GEOS-CHEM predictions. It can be seen there is better agreement in the Southern Hemisphere compared to the Northern Hemisphere.