On average, Alabama was warmer and drier than normal in May, although the portion of the state covered by the worst drought conditions actually shrank very slightly during the month (from 31.7 to 28 percent).
That's one of the problems with averages. Getting an average temperature or an average rainfall for a state or region can be a useful tool, but an average seldom tells the whole story.
On average, the 26 select cities we track in the Monthly Climate Summaries which accompany this report got about a half an inch of rain less than normal for May. But that average doesn't tell you that Dothan got 1.63 inches. That's a little less than half of the May norm. Or that Gadsden and Courtland each got less than 2 inches of rain for the month.
If you look at the monthly totals, you might think Mobile and Fairhope got plenty of rain for the month, 7.82" for Mobile and 7.59" in Fairhope. That's wetter than the normal May for both cities. But both got the bulk of that rain in one storm early in the month. Fairhope got 5.83" on May 2, while Mobile recorded 6.1" on May 2-3. That means both got less than 2" for the rest of the month.
So even some of the places in Alabama that saw more rain than normal in May still had a dry month.
Several streams and rivers across the state are at low flow levels seen only once in 20 to 100 years. While these are scattered throughout the state, the southeastern corner of the state is still the focus of the worst drought.
Drier typically means warmer. The sun's energy does two things: (1) heats the atmosphere, and (2) evaporates water. When there is less of (2) there is more of (1).
That helps to explain May's high temperatures. On average the 26-city composite saw a May mean temperature that was 2.4° warmer than normal for May.
What does this tell us about June? Surprisingly little.
June is a critical month for Alabama farmers, especially for those growing corn. Although long-range forecasting is notoriously difficult, we do know that we enter the summer with dry soil and higher temperatures than normal.
We will spend the next several months looking south and east for tropical storms and hurricanes. It has been two and a half years since the last tropical system (Tropical Storm Ida) came ashore in Alabama in December 2009. There is no rhyme or reason for these things, but in the past 20 years the state has not gone longer than four years without at least one tropical system coming ashore here.
While the damage caused along the coast by these systems can be horrific, the rain they dump inland also can be extremely beneficial.
Not only is Alabama overdue, but the U.S. is as well. It has been a record-setting stretch of more than 2,400 days since October 2005, when Hurricane Wilma became the last "major" hurricane (category 3 or stronger) to hit the U.S. coast. That stretch has got to end sometime, and the longer it goes the greater the probability is that it will end sooner rather than later.

- John Christy


Lawn - and - Garden Moisture Index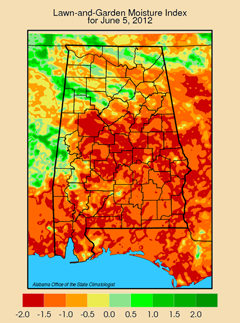 The lawn-and-garden moisture index measures the capacity of current soil moisture to sustain healthy lawns and gardens. The index is computed by estimating how much precipitation in the past three weeks contributes to current soil moisture. That rainfall is compared to a "standard" amount of rainfall considered to be adequate for that time of year to sustain healthy lawns and gardens. The difference is the lawn-and-garden moisture index.

For the latest update on this product, view here.