January weather seemed to pick up where an unusually violent 2011 left off, with eleven tornadoes causing two deaths and nearly 100 injuries on Jan. 22-23. As would be expected, Alabama suffered more tornadoes and tornado damage than any other state in 2011.
We have heard that January tornadoes are "rare" in Alabama. Perhaps that is the wrong choice of words. Tornadoes in January aren't as common as in other times of the year, but they aren't really all that rare. In fact, during the 20 Januaries from 1992 through 2011, a total of 34 tornadoes hit the state.
We only have to go back four years, to 2008, to find the previous major January outbreak before 2012. Six tornadoes hit Central Alabama on Jan. 10-11 of that year, including a pair of EF-3 tornadoes in Lamar and Tuscaloosa counties. Although the tornadoes in that system caused some damage, no injuries or deaths were reported.
Unfortunately, that has not always been the case. On the list of the state's 25 deadliest tornadoes, 22 of them were in March, April or May. There was one in October, one in November and one on Jan. 22, 1904. On that day a tornado hit Moundville, killing 35 and injuring 150. That was about half of the town's population.
Of course, what you look for when you think about winter tornadoes is location, location, location. Alabama is in just the right spot to get warm, moist, energetic air flowing up from the Gulf of Mexico. We are also in just the right spot to get cold weather systems flowing off of the Great Plains heading east.
When those two things collide, whether it is in April, May or January, violent weather is always an option.
And it was a warmer than normal January. The La Niña Pacific Ocean cooling event weather pattern is in effect. When La Niña forms, which it does with fair regularity, a large pool of cooler than normal water forms in the eastern Pacific Ocean just off the coast of South America.
That cool water chills the air, shifting weather patterns over a large part of the globe. It typically means warmer than normal weather for most of Alabama, somewhat wetter than normal in North Alabama but somewhat drier than usual closer to the coast. (CoCoRAHS observers saw this pattern in January: Mobile and Baldwin counties each saw less than 2.5 inches of rain for the month, while both Jackson and Madison counties got more than 9 inches.)
That trend is being reinforced this winter by the Arctic oscillation, which has shifted the jet stream north of the border with Canada. That means we are warmer than the average winter, while Alaska and Canada are being buried under mounds of snow.
You know it's bad when the National Weather Service is debating whether the U.S. all-time low temperature record (-80° Fahrenheit) was broken. It's a debate because after a thermometer in Alaska hit -79 it stopped reporting for several hours, probably because it was so cold the batteries stopped working. (No one knows if the batteries may have been failing gradually, reporting readings that were erroneously too cold before it stopped.) In any case, several other Alaskan stations did set record cold temperatures.
When Alaska stations set record cold temperatures, that's pretty chilly.
Of course, these things are subject to change. We still have at least a month of winter in front of us and, while the forecast is for more of the same, there is no guarantee we won't see a week of snow and ice in February. Or even March. Remember 1993? We'll discuss that event next month.
HOMEPAGE
NEWS ARTICLES
Alabama Tornado Fatalities
North Alabama Seasonal Snowfall
by the numbers
PAST REPORTS
December, 2011
November, 2011
October, 2011
September, 2011
August, 2011
July, 2011
June, 2011
May, 2011
April, 2011 (pdf)
May, 2011
April, 2011 (pdf)
March, 2011 (pdf)
February, 2011 (pdf)
January, 2011 (pdf)
December, 2010 (pdf)
November, 2010 (pdf)
October, 2010 (pdf)
Alabama Monthly Climate Summaries
view -->
CoCoRAHS
Community Collaborative Rain, Hail & Snow Network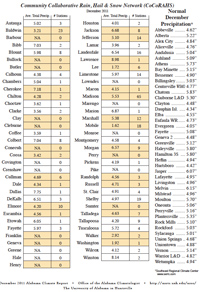 view -->
for more info go to:
www.cocorahs.org
New Daily Local Climate Records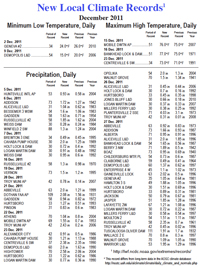 view -->

CONTACT INFO:
John R. Christy
Alabama State Climatologist
University of Alabama in Huntsville
john.christy@nsstc.uah.edu
website - AOSC

Bob Clymer
Assistant State Climatologist
bob.clymer@nsstc.uah.edu

Phillip Gentry
UAHuntsville Communications
gentry@nsstc.uah.edu
* all maps are clickable so you can view larger, more detailed images.