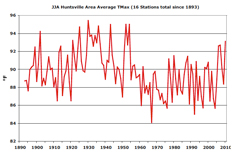 JJA Huntsville Area Average TMax (16 Stations total since 1893)


for more info go to:
http:water.weather.gov/precip
When we have our first hot spell of the spring or summer I can count on people asking, "Is this going to be a hot summer?"

This is especially the case when the hot spell follows a cold period, such as the one that set record lows in Alabama in mid-May (see table below). The truth is, no one knows if this will be a "hot" summer or not because we have no skill at predicting how atmospheric pressure patterns will set up.

As May ended and June began, the Southeastern U.S. was locked under an intense, warm high-pressure system that brought record or near record temperatures to Alabama cities. This sweltering region goes from Texas (with devastating drought) to Georgia. At the same time, in the western U.S. some ski resorts are bragging about staying open through the July 4 weekend because there has been so much snow and persistent cold weather.

Sometimes weather patterns become relatively fixed. This year there has been a strong tendency for low pressure to sit off the west coast, with high pressure from Texas along the Gulf and a stormy low pressure area in the Ohio Valley.

When such patterns become somewhat immobile, so to do the storms associated with low pressure areas. The Ohio Valley had tremendous snow and rain this winter and spring, the results of which are flowing through the lower Mississippi River. Along the southern edge of those storms, i.e. northern Alabama, is where the strongest air mass contrasts occurred. This sets up conditions for violent weather.

As summer approaches and the general pattern shifts northward, the drought that developed this winter and spring in south Alabama is now in the "Extreme" category, with many streams nearing record low values. Statewide rainfall averaged about one-third of normal in May, while both Dothan and Gadsden set records for the driest May.

We are watching this situation closely because it is quite serious. In somewhat of an irony, we've missed out on tropical storms for five years now. It could well be our turn for a drought-quenching but property-damaging hurricane.

There is one other thing that concerns me however. I've been assembling and processing summer temperature data for Alabama's four largest metro areas: Huntsville, Birmingham, Montgomery and Mobile. I read through paper forms since the 1890s for dozens of stations (one per month for each station).

I've finished Huntsville's record and am close on Birmingham and Montgomery. They all show that since the 1890s the overall trend of afternoon summertime high temperatures is downward.

But that's not the whole story.

If you are less than 55 years old, the recent summers have been (to you) the hottest ever, with the three hottest by far being 2006, 2007 and 2010.

I'm concerned because our generation has become accustomed to summer activities in what the data (Please see graph, top left.) shows has been a "cool" period since 1955 (if summer in Alabama can ever be considered "cool").

Recently, however, we've seen a return to the "normal" of the pre- 1955 climate. I wonder how we will cope if the persistent heat and droughts of those years returns, especially a year like 1930 in which some Alabama stations saw high temperatures hit 110 °F.

Some folks like it hot and many businesses do quite well the hotter it gets, but let's keep an eye on history and make sure we are prepared if a decade like the 1930's happens to visit us again.

Stay cool.

HOMEPAGE
NEWS ARTICLES
Alabama Tornado Fatalities
North Alabama Seasonal Snowfall
by the numbers
UAH, NASA research teams get a detailed view of winter storm
read article -->
PAST REPORTS
October, 2010
November, 2010
December, 2010
January, 2011
February, 2011
March, 2011
April, 2011
May, 2011
Alabama Monthly Climate Summaries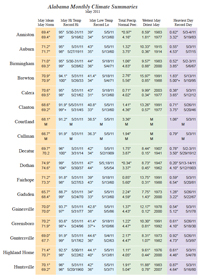 view -->
CoCoRAHS
Community Collaborative Rain, Hail & Snow Network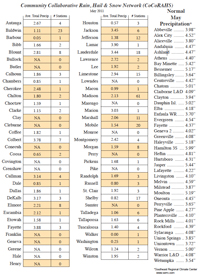 view -->
for more info go to:
www.cocorahs.org
New Daily Local Climate Records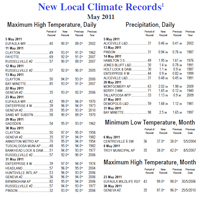 view -->

CONTACT INFO:
John R. Christy
Alabama State Climatologist
University of Alabama in Huntsville
john.christy@nsstc.uah.edu
website - AOSC

Bob Clymer
Assistant State Climatologist
bob.clymer@nsstc.uah.edu

Phillip Gentry
UAHuntsville Communications
gentry@nsstc.uah.edu
* all maps are clickable so you can view larger, more detailed images.