November brought us two bouts of bad weather, including the Nov. 16 storm system that generated four tornadoes across Central Alabama. An EF-2 in Sumter County caused one injury and damaged or destroyed several homes, while an EF-0 caused damage in Demopolis. An EF-1 caused damage for about a mile in Montgomery.
An EF-1 that started in Macon County near Notasulga damaged dozens of buildings and mobile homes in Macon and Lee counties, at one point skirting the Auburn University campus before spinning into Harris County, Georgia.
According to the Weather Service survey, that EF-1 had wind speeds up to 110 mph. It stayed on the ground for 33 miles with a damage path that was 750 yards wide. November tornadoes are not uncommon, but EF-1 tornadoes with that kind of staying power are.
We mentioned a couple of months ago that October and November are when most of Alabama can expect its first frost of the fall season. The cold front that shivered through the state on Nov. 10-11 took care of most places around the state that hadn't already seen frost.
Birmingham, Dothan and Mobile all saw their first frost of the season on 11/11/11, while Huntsville, Anniston, Muscle Shoals, Tuscaloosa and Troy all had their first "killing frost" (28° or colder) that morning.
It is tough to say whether first frost is much of an indicator of how winter will develop. It came early for Anniston, Gadsden, Muscle Shoals, Tuscaloosa, Dothan and Mobile, but a few days late for Birmingham and Troy. That doesn't sound like much of a trend.
We did have an earlier than usual round of snow on Nov. 29-30, with 2.3 inches reported in Valley Head along with 1 to 3 inches at higher elevation CoCoRAHS stations in Jackson and Madison counties.
The rain that preceded the snow was much needed, although it isn't clear that Mentone in northeastern DeKalb County needed 5.22 inches in 24 hours. Sylvania, also in DeKalb County, got 3.76 inches of rain during that storm.
Although the lawn and garden index this week looks a little better thanks to recent rain, most of the state south of I-20 remains under long-term drought conditions.
HOMEPAGE
NEWS ARTICLES
Alabama Tornado Fatalities
North Alabama Seasonal Snowfall
by the numbers
UAH, NASA research teams get a detailed view of winter storm
read article -->
PAST REPORTS
October, 2011
September, 2011
August, 2011
July, 2011
June, 2011
May, 2011
April, 2011 (pdf)
May, 2011
April, 2011 (pdf)
March, 2011 (pdf)
February, 2011 (pdf)
January, 2011 (pdf)
December, 2010 (pdf)
November, 2010 (pdf)
October, 2010 (pdf)
Alabama Monthly Climate Summaries
view -->
CoCoRAHS
Community Collaborative Rain, Hail & Snow Network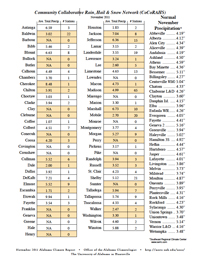 view -->
for more info go to:
www.cocorahs.org
New Daily Local Climate Records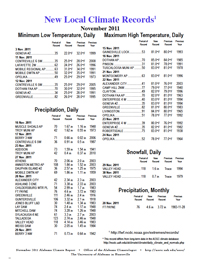 view -->

CONTACT INFO:
John R. Christy
Alabama State Climatologist
University of Alabama in Huntsville
john.christy@nsstc.uah.edu
website - AOSC

Bob Clymer
Assistant State Climatologist
bob.clymer@nsstc.uah.edu

Phillip Gentry
UAHuntsville Communications
gentry@nsstc.uah.edu
* all maps are clickable so you can view larger, more detailed images.