Welcome to the Atmospheric Land EXchange Inversion (ALEXI) Model Page.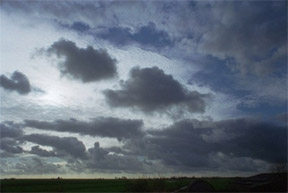 This page is maintain by researchers at the University of Wisconsin-Madison's Cooperative Institute for Meteorological Satellite Studies (CIMSS) and the Department of Soil Sciences.
This research is funded by grants from the National Aeronautic and Space Administration (NASA) and National Oceanic and Atmospheric Administration (NOAA) through 2003. The goals of this research are the development of accurate daily land-surface energy fluxes at 5-10 km horizontal resolution, and a flux climatology based on these daily fluxes. This study is unique in that the ALEXI model is driven primarily by remote sensing inputs, namely GOES-8 and GOES-10 satellite radiances and cloud information, as well as Normalized Differenced Vegetation Index (NDVI) information derived with data from the Advance Very High Resolution Radiometer (AVHRR) polar orbiting satellites. Not only does our ALEXI model derive fluxes (sensible, latent, ground heat and net radiation) during "clear sky" conditions, but new methods allow for flux estimations beneath cloud cover, provided a priori knowledge of previous-day flux partitioning, rainfall and soil moisture conditions.