Volume 10, Number 12 - March 2020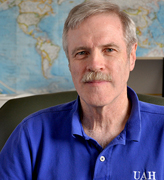 The broken record of wet, wet, wet that began in November 2019 continued for the northern half of the state in March while the southern half turned dry.  The average statewide rainfall total is a very misleading 6.13 inches, being almost exactly average.  However, it was truly a "tale of two states." 
In the north, rainfall was again plentiful as it was in previous months with northern counties receiving on average about 9.5 inches (3.5 above average).  In fact, for the four months beginning in December 2019, these counties along the Tennessee River tallied almost 38 inches of rain - the 2nd wettest such period on record.  Contrast that abundance with the total in Baldwin and Mobile counties of less than an inch for their 4th driest on record.  The broader map for the month was unusual as a strip along the Gulf Coast from Corpus Christi to Florida's Panhandle started slipping into drought conditions while 300 miles to the north, everything was soaked.  Three stations in Florence and one in Madison measured over 12 inches each.
With the storm track riding along the northern part of our region, the state sat within the warm side of these systems.  Statewide it was the 4th warmest March in 126 years averaging 63.3 °F or 8.2 °F above average. It was only eight years ago that we observed the warmest March at 64.6 °F while the second warmest was way back in 1907 at 64.3 °F.
Even with the warmth, sub-freezing temperatures hit the state during the first week of the month.  At one of the agricultural stations within sight of the Tennessee border in Madison County, the thermometer dropped to 24 °F, with 25 °F being felt at the two Valley Head stations, the Forest Service station at Liri and at Hamilton over near the Mississippi line. 
The broken record for the hottest daily temperature played the same tune again - the station at the Andalusia-Opp airport, amidst the dry part of the state, topped out at 92 °F.  Other stations in the area such as Atmore and Dothan hit 90 °F.
[Note:  with my extra duties as interim Dean of the College of Science and the unexpected demands arising from COVID-19, these monthly reports will be considerably delayed for a while.  Thank you for your patience. JRC]
- John Christy
The Alabama State Climatologist