Volume 9, Number 4 - July 2018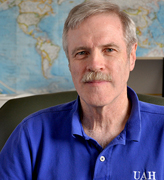 July as a whole in Alabama did not depart much from the long-term average.  Temperatures varied from slightly below normal to slightly above at the sampling of stations I check.  Most stations received less than normal rainfall but with some interesting exceptions.  Birmingham endured a dry July measuring only 1.81 inches, less than half of normal.  However, just 60 miles southwest as the crow flies, Tuscaloosa reported exactly 10 more inches – 11.81.  The total was bolstered by a major rainstorm on the 6th in which the airport received 4.39", while Oliver Dam and Northport each checked in with 5.30".
As of this writing, no station reported a temperature of 100 °F in July.  Andalusia hit 99 °F on the 13th and also on the 21st along with Open Pond Recreational Area (about 10 miles south of Andalusia).  So far this year, Andalusia is the only station to experience a 100 °F reading which came on June 26th.   Alabama benefitted with cooler than normal temperatures near the end of the month as we were on the eastern side of the hot dome of high pressure centered over Texas where at least one station (Waco) hit its all time record high temperature.
- John Christy
The Alabama State Climatologist