Welcome to the Alabama Office of the State Climatologist.
It is the role of the Office of State Climatology to provide weather and climate information to the public and private interests to improve decision making activities that affect environmental quality and the economic efficiency of the State. Learn more …
Alabama Drought Emergency Declaration (read more...)
UAHuntsville's Christy tells Senate committee about 'climate change'

Moisture Indices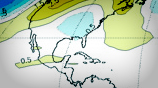 Global Temperature Report
The satellite-based instruments measure the temperature of the atmosphere from the surface up to an altitude of about eight kilometers above sea level. Once the monthly temperature data is collected and processed, it is placed in a "public" computer file for immediate access ...view report

Additional Forecast Links
CoCoRaHS

Learn how to join the statewide effort to measure rain in Alabama - join CoCoRaHS (Community Collaborative Rain, Hail and Snow Network). Watch Their Video!