Welcome to the Alabama Office of the State Climatologist.
It is the role of the Office of State Climatology to provide weather and climate information to the public and private interests to improve decision making activities that affect environmental quality and the economic efficiency of the State. Learn more …
_____________________________________________________________________

Any climate variable will show some type of change between different periods whether they be weeks, months, years or
millennia. Knowing "why" such changes occur however is often unsolvable because our climate system is an expression
of two chaotic and turbulent fluids – the atmosphere and the ocean - which together can create an infinite variety of
weather and climate patterns all on their own. This natural variability makes it difficult to determine the impact of extra
greenhouse gases on the climate system because their influence is less than one percent of the total energy flows which
already vary by more than this through time.

View PDF to read more
Download PDF (high res)
_____________________________________________________________________

Latest Congressional Testimony

U.S. House U.S. House Science, Space and Technology Committee, 2 February 2016 (PDF)

Science, Space and Technology Committee, 29 March 2017 (PDF)
U.S. Senate Commerce, Science and Transportation, 8 December 2015 (PDF)
Alabama Drought Emergency Declaration (read more...)
UAHuntsville's Christy tells Senate committee about 'climate change'

Moisture Indices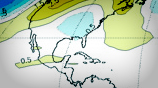 Global Temperature Report
The satellite-based instruments measure the temperature of the atmosphere from the surface up to an altitude of about eight kilometers above sea level. Once the monthly temperature data is collected and processed, it is placed in a "public" computer file for immediate access ...view report

Additional Forecast Links
CoCoRaHS

Learn how to join the statewide effort to measure rain in Alabama - join CoCoRaHS (Community Collaborative Rain, Hail and Snow Network). Watch Their Video!