Volume 3, Number 14, November 2012
Update:
The November 2012 statewide temperature and precipitation reports from the Southeastern Regional Climate Center are in and there are two bits of information I thought you might find interesting:
- Through eleven months, 2012 is on track to be the warmest year in Alabama since 1954. From January through November, it was the 12th warmest year in the 117-year state temperature record.
- November 2012 was the 10th driest November in the 117-year record, with statewide average rainfall of only 1.34 inches for the month. It was the driest November in Alabama since 1949, when the state averaged only 0.79" of rain.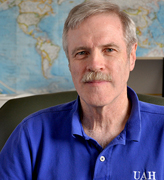 As we transition from the normally relatively dry fall, the wet season rains typically start in November. That didn't happen this year, so relative to average we fell further into a rain deficit situation as the month ended.
Both Gadsden and Muscle Shoals recorded their driest Novembers on record. A few other stations were within two or three hundredths of an inch of their record dry Novembers.
Many folks don't realize that as a general climate rule, the drier a period is, the cooler it is. This was the case for Alabama in November, with temperatures at all the stations cooler than average to go along with less moisture. Colder air is usually drier air.
November 2012
Temp and precip. anomalies
Anniston -3.3° F -3.39 in
Birmingham -3.0° F -3.39 in
Decatur -3.6° F -3.42 in
Dothan -2.8° F -3.23 in
Huntsville -3.2° F -2.94 in
Mobile -3.0° F -3.70 in
Montgomery -2.5° F -3.65 in
Muscle Shoals -2.2° F -3.10 in
Troy -3.7° F -3.42 in
Tuscaloosa -2.8° F -3.90 in
One of the most often asked questions we receive at the Climate Office is "Will it snow this winter?"
After the snowy winter of 2010-11 – including a white Christmas for many in north Alabama – interest went way up.
We have compiled some year-by-year snowfall totals for the website, and the odds of getting some snow from Birmingham northward are better than 50-50 in any given year. To see a white Christmas runs only about once in 75 years or so for the northern-most places. (Better not bet on using that sled on Christmas morning.)
Historically, the state's biggest recorded snow storm started on New Year's Eve 1963 and finished on New Years Day 1964. Total snowfall exceeding 15 inches was recorded from Huntsville west to the Mississippi border.
From the new 1981-2010 U.S. normals (i.e. data based on the 30-year period from 1981-2010) we have these as the average yearly snowfall totals over that period. This data is from the National Climatic Data Center.
That data indicates that Alabama has 24 places that average 1.0 inches or more of snowfall per year in Alabama. That is not the same as getting an inch or more of snow every year.
5.9" Valley Head
4.0" Haleyville
2.4" Huntsville International Airport
2.4" Moulton 2
2.2" Ashland 3 ENE
2.2" Muscle Shoals Airport
2.0" Anniston Airport
1.8" Pinson
1.7" Hamilton 3 S
1.7" Heflin
1.7" Oneonta
1.6" Birmingham airport
1.6" Sand Mountain substation
1.4" Hanceville
1.4" Oak Mountain State Park HQ
1.3" Scottsboro
1.3" Sylacauga
1.3" Walnut Grove
1.1" Athens
1.1" Belle Mina
1.1" Bridgeport
1.0" Boaz
1.0" Rockford 3 ESE
1.0" Talladega
- John Christy