Volume 3, Number 9, June 2012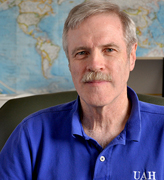 Wasn't June cool and wet?
Yes, June was both cool and wet! It was, in fact, the coolest June in the past five years for most stations in Alabama. Of the 26 stations in the ACR climate summary, half saw mean temperatures that were cooler than normal; the 26-station composite mean for June was 0.1 degree cooler than normal for the month.
In all, 10 daily low temperature records were set in June. Another 34 daily records were broken in the "lowest maximum temperature" category, with Bay Minette recording its coolest June high temperature when the thermometer topped out at 73 on June 11.
That's probably because it was so wet around Bay Minette. A total of 56 daily rainfall records were set in June. That includes 27 records set on June 11 stretching from Bay Minette to Scottsboro, where the 2.4 inches of rain that fell that day doubled the record set on June 11, 1909.
Of course, much of the record rainfall was concentrated along the Gulf Coast. Three CoCoRAHS stations reported more than 20 inches of rain in June; the volunteer at Tillman's Corner got 26.24 inches. The Mobile Downtown Airport weather station recorded daily rainfall records three days in a row, and the Mobile Regional Airport saw record rain the last of those three days and the day after that. On June 11, Dauphin Island saw its wettest June day on record.
So, yes, June was both cool and wet, right up until it turned dry and wickedly hot. It was very much a tale of two Junes, cool and hot, wet and then dry. The contrast between the first dozen days of June and the last 18 was dramatic.
Mobile saw its wettest June on record, Tuscaloosa its driest. Some stations saw their coolest June temperatures, and several their hottest.
According to one dataset, at least two stations -- Muscle Shoals, and Bankhead Lock and Dam -- reported high temperatures of 107 degrees, and the Huntsville airport reached 106. Rain during the second half of June ranged from sparse to nonexistent as drought conditions spread. More than 90 percent of Alabama is under some level of drought.
As might be expected, humidity in late June was low, which means the air was extra thirsty and drawing water from plants as they transpired. Soil dried more rapidly after what rain there was.
By the end of the month, streams from one end of the state to the other were at low levels typically seen only once in 50 years.
We can hope the past few summers aren't a harbinger of things to come. We recently cleaned up some of the state's climate data from the past 129 years and looked at what a return to past weather patterns might mean in Alabama. That information is available here: http://nsstc.uah.edu/essnews/
- John Christy