Volume 3, Number 10, July 2012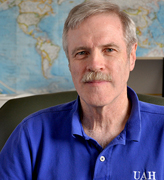 There were 61 daily high temperature records set in Alabama in July, in what surely must have been one of the warmest Julys in the history of history.
Sixty one is a lot of records. Isn't it?
Turns out, not so much. (Warning: Fun and perspective with math upcoming.) If you look only at the stations that broke or tied daily high temperature records in July, there were 37 stations involved. The dataset that is widely cited uses only stations with at least 30 years of data. That's good, although from a climate perspective 30 years isn't really a substantial dataset.
If Alabama had only those 37 stations and each reported a high temperature every day in July, that would mean there were 1,147 daily highs reported. If we look only at the stations that reported breaking or tying a record, new records make up only 5 percent of the total for the month.
And, since there are many more weather stations in Alabama than those 37, those 61 records don't really look all that drastic. In fact, the ACR sample (the stations reported in our Climate Summaries) reported a mean temperature for July that was slightly less than one degree warmer than normal.
We can do the calculation a bit differently too. There are 12 stations in a special Alabama network which each have at least 80 years of data. Using only these stations, we can calculate the number of record hot days in each year and plot the results.
So, if in one July all of the days broke the record at all of the stations, that month would have 12x31 = 334 records. The figure below says a lot: Julys in 1902, 1930, 1952, 1980 and 2000 had a lot of record hot days. In 2012, there were almost none. In fact, and I hate to say this, it looks like we are overdue for a hot July in the near future.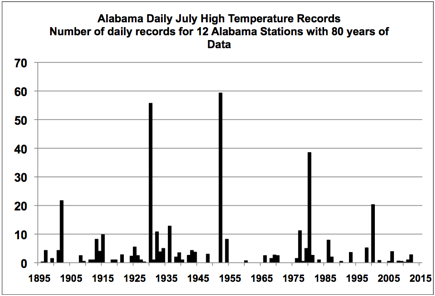 We can also look at June and July together, in the chart below. Notice that 1914 now shows up as well as 1986, a year some of you may remember had serious summer drought.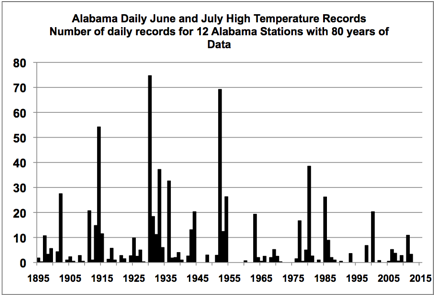 Next month we should have a chart for the three summer months combined. These are the kind of analyses that give more information on the overall climate story for a particular month. For these studies, we need long-term stations. This type of analysis takes a bit of effort, but we will try to present them this way in the coming months because they are much more informative about the climate history of Alabama.
There were, however, at least two noteworthy records broken last month: Both Scottsboro and Selma, each with weather records going back more than 100 years, had their wettest July on record. Scottsboro had 7.81 inches of rain, besting the 7.59 inches in July 1984; Selma got 8.91 inches, almost half an inch more than the 8.45" recorded in July 1994.
Most of the state remains in some stage of drought, although the severity is slowly decreasing. While Selma and Scottsboro had record rain, Montgomery saw its driest July on record with only 1.3". That was less rain than the previous record of 1.69" set in July 2000. Other dry stations include Tuscaloosa with 2.49" and Auburn 2.52".
On a related note, we are adding a new feature to the Alabama Climate Report. The Climate Extremes will give readers a better perspective on recent weather events by giving the perspective of past extremes. You can see the wettest and driest, or hottest and coldest statewide averages for each month, plus where the most recent month fits into that spectrum. This data arrives a few days into the month, so you may have to check back later to get the up-to-date information each month.
- John Christy