Volume 4, Number 15, February 2013
Do you remember the weather in January, when Gadsden and Guntersville both had their wettest Januaries on record and one station in Dothan recorded less than one fifth of an inch of rain for the entire month?
February was the mirror image of that ‑- wet to the south and drier in the north -- but wetter. Significantly wetter.
A CoCoRAHS volunteer in Clayhatchee (west of Dothan just across the Dale County line) recorded more than 23 inches of rain in February. A local watershed management authority recorded 21.44 inches of rain on the Choctawhatchee River in Geneva and 19.76 inches at Little Choctaw River in Dothan.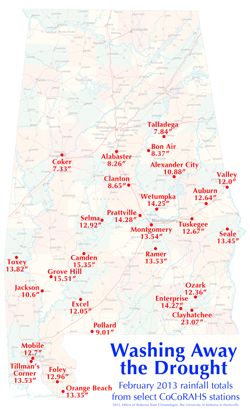 Selma's official rain gauge filled with 14.3 inches; Thomasville with 13.17"; and Montgomery with 13.36". Three significant rain systems moved through the state in February breaking more than 100 daily rainfall records.
Several places with relatively short (32- to 50-year) climate records saw new rainfall records set for four, five and even six days last month. It gives some sense of scale, however, when Thomasville's 121-year climate chronicle saw two daily records set and Selma -- with 118 years of weather data -- set three.
(On the other end of the state, Decatur got less than three inches of rain for the month. Several CoCoRAHS stations in Madison and Limestone counties recorded less than two inches.)
The month's extraordinary rainfall largely washed away (at least for now) the two and a half year drought that had gripped large portions of the state, especially in the south and eastern portions.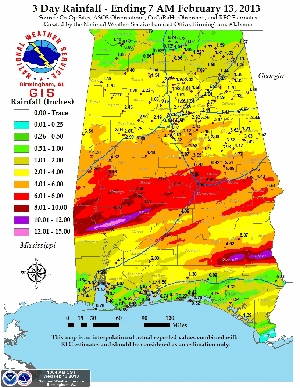 This is the first time Alabama has had no territory in severe drought since September 2010. The 11.4 percent of the state that is abnormally dry or in moderate drought is the lowest percent of total drought in Alabama since June 2010.
But that was February, and now March deserves our full attention. A transition month between winter and spring, March is prone to all manner of wild weather extremes. A few anniversaries worth noting should give some appreciation for how March can come in like a lion and go out the same way.
March 13-14 is the 20th anniversary of the "storm of the century," which dumped record setting snow and cold across most of Alabama. Although the storm earned it's name due to things like 14-foot snow drifts in Virginia, 100 mph winds and killer tornadoes elsewhere in the country, the storm left quite an imprint on Alabama. The state's all-time record one-day snow fell on Walnut Grove, which got 20" of snow on March 13. Sylacauga had ten-inch snowfalls on back-to-back days. Oak Mountain State Park saw 14 inches of snow. The snow spanned Alabama: Atmore got two inches and Auburn five. Bay Minette reported three inches, Andalusia six and Mobile 2.7.
Perhaps most remarkable about that weather event was how rapidly it struck and now rapidly it departed. At the Birmingham airport the low temperature on March 10 was a comfortable 48°. Four days later the low was 2. But two days after that the low for March 16 was up to 39.
That pattern was seen across the state, with temperatures plummeting after the snowfall then soaring as normal March weather moved back into the region.
If we look at little further back, March 15-17 is the 40th anniversary of floods that hit North Alabama, and especially Huntsville. Record rainfall in the region soaked the ground. The heaviest rain was reported in Double Springs, which report 9.4 inches. Huntsville suffered significant flooding from the Tennessee River as far north as the Heart of Huntsville Mall, while other nearby areas also saw widespread flooding.
If we go much further back, March 21 is the 100th anniversary of a horrific weather system that spawned at least five recorded tornadoes, including one that killed at least 27 people and injured 60 more in and near the Lower Peach Tree community in Clarke and Wilcox counties.
A wire service story from that week noted that the Alabama storms were part of a much wider system: "It is estimated that not less than 100 lives were lost and $3,000,000 property damage was done as a result f the storm thru the Mississippi valley ... The damage in Alabama alone is estimated at $1,000,000 and at least 50 lives lost."
If we need any reminder of how dangerous our weather can be in March, we have only to look at 1913: The Birmingham NWS office's data shows there were 15 tornadoes recorded in Alabama that year. There was one in February, which killed three people. The other 14 tornadoes, which killed at least 45 people and wounded almost 200, were all in March.
History tells us that March can bring us everything from massive snowfalls to floods and killer storms. It is a good month to prepare for the worst and to be especially weather aware.
- John Christy