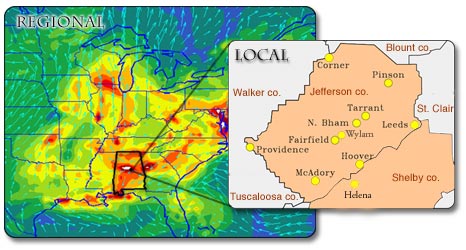 EMPACT (Environmental Monitoring for Public Access and Community Tracking) is an EPA program to assist local agencies to improve environmental monitoring and assessment and, especially, outreach to the public.

EMPACT-Birmingham is an EMPACT-funded program of local air quality monitoring, assessment and public outreach, under the overall management of the Jefferson CO Dep. of Health (JCDH), and in partnership with the Alabama Department of Environmental Management (ADEM), The University of Alabama in Huntsville (UAH), and MCNC Environment Program (NC).

This Website is the main vehicle of EMPACT-BHM outreach to the public. A major innovation of EMPACT-BHM is to extend the air quality outlook from mainly local to local as well as regional (local impact of regional air pollution).
Questions about this web site? Contact the
webmaster
View My Stats