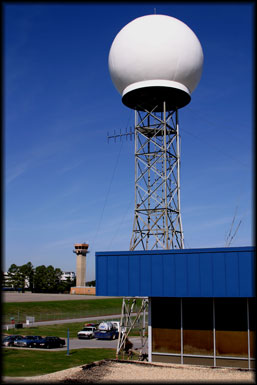 ARMOR is a scanning dual-polarimetric Doppler radar operating at C-band (5625 MHz) with a beam width of 1o. It was originally deployed in Huntsville by the National Weather Service as a local warning radar in 1977 (WSR-74C), refurbished and upgraded to Doppler in 1991. The radar was donated to the UAH Dept. of Atmospheric Science in 2002 and upgraded to dual-polarimetry using the SIGMET Antenna Mounted Receiver in Fall 2004.
ARMOR Dual-Polarimetric Doppler Radar
Paving the Way for Scientific Advancement

Education and training
- UAH graduate students will gain experience using an advanced
polarimetric radar platform in advance of the National Weather
Service NEXRAD network upgrade.
- Real-time student use of the radar in both classroom and
research environments

Continuous data archive at NSSTC for full volumetric and surveillance scans



One of a kind technology transfer via real-time use of ARMOR in the broadcast meteorology domain.



Real-time operational feed to NWS for nowcasting and training at NWS WFO Huntsville



Supports basic thunderstorm, cloud physics, cloud electrification and precipitation research within the UAH/NASA Severe Thunderstorm Observations and Research Meteorological NETwork (STORM-NET)

- Strategically located with UAH Mobile Integrated Profiling
System (MIPS) and



Source for Satellite precipitation mission ground truth and physical validation via precipitation microphysics retrieval and kinematic measurements (dual-Doppler)



Vastly improved Quantitative Precipitation Estimation (QPE) for surface hydrological and water cycle studies



Operational meteorological decision support tool development and data assimilation (e.g. NASA-SPoRT)



Detailed cloud kinematic, microphysical, electrification, and lightning studies using the NASA Northern Alabama Lightning Mapping Array (NASA-MSFC/NSSTC Thunderstorm and Lightning Group) , ARMOR polarimetric variables and real-time dual-Doppler capability.



Potential hydrological data input for assimilation into local distributed runoff models, regional flood plain studies/planning



Near surface wind retrievals for assimilation into pollutant dispersion models



Boundary layer studies including identification of biological flyers
---
THE UAH-NSSTC/WHNT ARMOR C-BAND DUAL-POLARIMETRIC RADAR: A UNIQUE COLLABORATION IN RESEARCH, EDUCATION AND TECHNOLOGY TRANSFER
(download PDF, size 525k)